If you are looking after the custom skincare stand display with excellent quality, permanent structure and competitive price, you get to the right place. At Actgreen Acrylic Display, we provide a unique custom skincare display stands which gets much attention to your whole collection of your makeup products.
Experienced custom skincare stand display vendor
We are the professional, reliable and experienced acrylic display stands, display design and visual merchandising supplier that to offer store design with free shipping and gorgeous product display stands generated with strict standard production policy. Our charming store design give your business immense high light on your makeup products to improve the presentation.
Solution provider for skincare stand display
Our passion and responsibility to achieving clients' goals leading us as a custom skincare display stands provider, which will be offered to our clients with budget affordable prices. Actgreen elastic price policy shows that there will be definitely a suitable solution for someone in need.
A greatly experienced specialists design team
Actgreen has a greatly experienced specialists design team, which designs your counter tops and visual merchandising to be a custom skincare display stands manufacturer. Considering the display design suiting for merchandising and store retail environment, the experts pay much attention to the store design details, ensuring you gain an elegant cosmetics display stand which are modern, fashionable and unique.
Get functional custom skincare stand display
With a series of counter tops and floor standing, it is 100% sure that you are to get the product display which meets the size, color, style, shape that you have in mind. With various display design, you have our word that you are able to get a functional custom skincare stand display. They can present the whole collections of cosmetics products of different size, weight and design. For example, we produce skincare stand display which are supposed to fit different product lines.
Strict QC policy with product display
Based on our strict QC policy, the cosmetic counter tops would be checked by the person step by step. For instance, when the visual merchandising display are finished from this step to next step in the mass production schedule, the makeup organization display would be inspected by the person in charge from the next step.
If there is any quality issue, the custom skincare display stands would be returned for fixing. If not able, the skincare stand display should drop away.
Why to use a custom skincare display stands?
This custom skincare stand display is made with top quality acrylic, which is 100% luxury acrylic. Simple but modern design, which is one of our attractive store design for cosmetic custom skincare display stands. If you don't like this design, please feel free to contact us for your own cosmetics storage. A customized acrylic display stand is welcomed.
Material: 100% Brand New Top quality acrylic
Size: Custom-made;
Package: per set with export carton;
Ideal for: cosmetics | makeup
Brand: Actgreen;
Raise your sales with a custom skincare display stands
A cosmetics display stand provides an alternative option for visual merchandising with a luxury layout. With a skincare stand display, it catches your clients' visual attention to the makeup counter tops you are willing to highlight easily. Without an skincare stand display, your cosmetics products would not be well organized.
Save your money with skincare stand display
Custom skincare stand display is a cost-effective retail display option to display your products with a high-end material. Comparing to the other materials such as metal steel, stainless steel, acrylic material is a very luxury material and good cost material for skincare stand display.
Meet your goal with custom skincare stand display
The skincare stand display is able to custom-made with your size, color, style requirement. You don't need to worry about the custom skincare display stands does not fit your products. Because we have our own professional designers team to design and create the acrylic displays.
Save your time with skincare stand display
Custom skincare display stands are easily set up when you receive them, so you can build your great impressive presentation without any time. As you know, time is money. With an easily established skincare stand display, you will save a lot of time to thinking about your promotion option, marketing policy and company future.
Why choose Actgreen Acrylic Display Vendor?
1. Custom display design with free shipping for custom skincare stand display are able to provide by Actgreen Acrylic Display Vendor. Luxury cosmetics storage for cosmetics, skincare, perfume, watches, pens, cakes, books etc.
2. An affordable good price for custom cosmetic skincare stand display.
3. Top quality new acrylic, Perspex, PMMA or PCR plastics is acceptable for skincare stand display. PCR plastics material is made from post-consumer resins, which are environmentally friendly and more sustainable to help reduce the amount of waste sent to landfills.
4. Strong export package standard case for custom skincare display stands.
5. Strict QC policy for skincare stand display. If there is any not good for the custom skincare display stands, it would not be sent out.
6. After-sales feedback with free shipping will be provided within 24 hours for skincare stand display.
ACRYLIC DISPLAY STANDS VENDOR 
Actgreen acrylic display has the good reputation during the clients all over the world. There are acrylic cosmetic display, acrylic skincare display, acrylic perfume display, acrylic jewelry display, custom skincare display stands, acrylic watch display, acrylic stationery displays etc.
Custom-made acrylic display is welcomed to present your products. Custom design with high end finished. Small order is welcomed.

ACRYLIC PHOTO FRAME
Actgreen acrylic photo frames are available with a variety of styles, including acrylic magnet photo frames, acrylic bracket photo frames, and acrylic metal photo frames. All style of photo frames can be customized, and the colors can be matched with each other. Suitable for home, gift, business and other occasions.
Cost can be controlled based on cost and size. The surface can be silk-screened printed or laser marked logo, accepting small orders.
ACRYLIC DISPLAY BOX
Actgreen generated a series of acrylic box orders. Acrylic flower boxes, acrylic jewelry boxes, plastic storage box, acrylic display covers, skincare stand display, acrylic cosmetic containers and other acrylic box products.
Actgreen can help customers design and sample processing, then mass production. The acrylic box is good crafted and has high transparency. The actgreen acrylic box is very popular among customers all over the world and looks forward to working with you.
6 Best Skincare Stand Display | Top Acrylic Skincare Display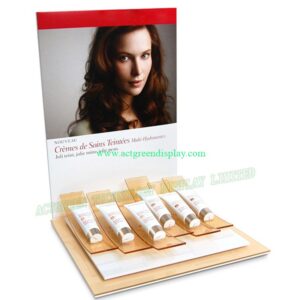 Get acrylic skincare stand display with best price vendor. Top luxury acrylic skincare display unit for ODM cosmetic, skincare, perfume, watches, book, cakes.
Product SKU: 1
Product Brand: Actgreen Display
Product Currency: US$
Product Price: 10
Price Valid Until: 2022-05-01
Product In-Stock: InStock