Today let us talk about the logo for acrylic display, which is a very important part for acrylic display stand.
Logo is representing for a company. Logo is the designation for a company. Logo is the expression for a company. That is why the logo is such a significant part for an acrylic display stand.
Since logo is so important, what logo option should we choose for an acrylic display stand?
At the article "How to finalize luxury custom acrylic display stands?"
, we mentioned a little about the logo option. There is silk-screened logo, hot stamped logo, laser graved logo, mirror acrylic logo. At this post, we would express them one by one clearly.
Silks-screened logo for acrylic display
Silk-screened printing is one of the top outstanding printing technology, which is the most-used by vendors when printing patterns onto acrylic display of various sizes and materials.
It has been in use for many years which is mainly for printing images, logo and designs on acrylic display, paper, wood, and other materials.
There are distinct kinds of silk-screen printing, according to the target and the process. Among them, we can find serigraph for the graphic design sector, serigraph for the art sector and textile printing, which is what interests us most.
How does Silk-screen printing work?
To begin with, the printing frame is generated, or rather, the design is printed onto a sheet so that the ink can be transferred.
The frame is put on the acrylic display and with the help of a scraper the colors are screened (one layer for each color, up to a maximum of four colors).
Whenever applying a layer with the frame ink, it is left to dry and then can be used for another application.
In spite of its craftsmanship in recent years, silk-screen printing has become more and more modern, and there is ink and machinery available that enables us to obtain results of superfine quality.
For this reason, nowadays, there are more and more companies that decide to opt for silk-screen printing when finalizing acrylic display and other items with their logo.
Actually silk-screen printing is the most effective cost option for acrylic display.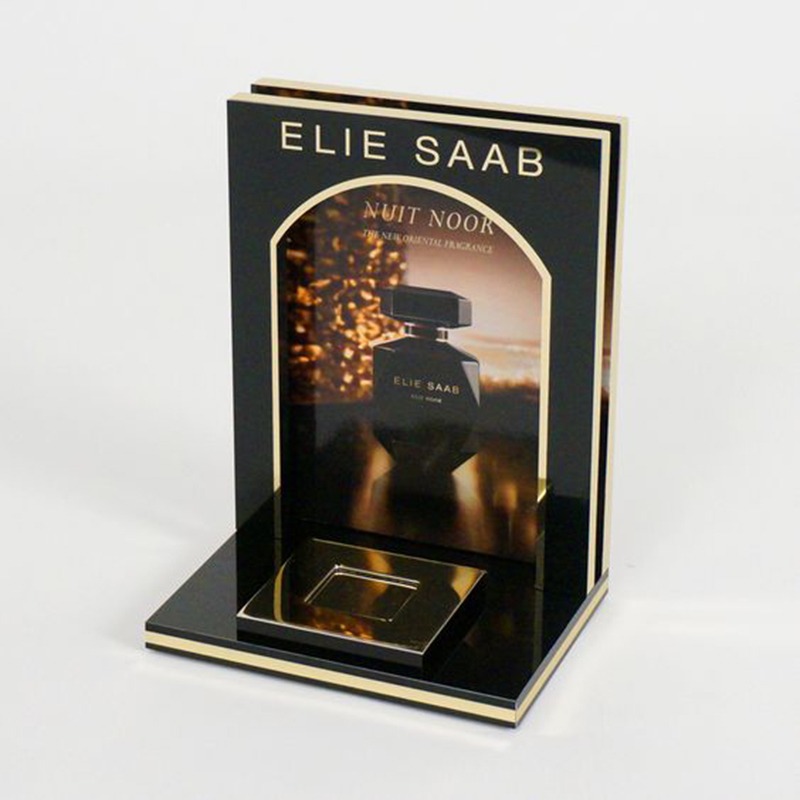 Hot Stamp logo for acrylic display
This method is more straightforward than silk-screen logo. Hot stamping involves the treatment of a metallic foil getting heated on the surface of the packaging with the aid of a die. While it is widely used on paper and plastics, this method can be applied to acrylic display as well.
In hot stamping, the die is mounted and heated, and then the foil is placed above the packaging to be imprinted. With the material below the die, a painted or metallized roll-leaf carrier is positioned between the two of them, and the die pressed down through it. The combination of heat, pressure, dwelling and stripping time, control the quality of each stamp. The die can be created from any given artwork, which could include a text or even a logo.
Foil stamping is considered to be environment-friendly since it is a relatively dry process and does not result in any form of pollution. It does not create any harmful vapors or needs to use solvents or inks.
When using the hot stamp method during the design phase of the acrylic display, the metallic foil is glossy and contains reflective properties which when caught in the light, produces a shimmering image of the desired artwork.
On the other hand, silk screen printing creates a matte or flat image of the design. Even though the ink used has a metallic base, it still lacks the high shine of that of the foil. Hot stamping provides a profligate sensation to every kind of custom design used in the packaging industry. And since first impressions matter a lot in this regard, products that have been foil stamped can be striking to customers who have high expectations.
However, the hot stamp logo has the quantity requirement and the cost is much higher than the silk-screen logo.
Laser Graved logo for acrylic display
This option is different with hot stamp logo. This logo is laser graved by machine directly onto acrylic display. And the logo is concave.
Mirror Acrylic logo for acrylic display
This method is some kind similar to the hot stamp logo which both has the shining effect. But the difference is the mirror acrylic logo could be directly applied onto the acrylic display or behind the sheet.
Actgreen Display can do all Silkscreen Logo Hot Stamping logo, laser graved logo and mirror acrylic logo. So if you are looking to release any products in the near future, feel free to give us a call or email!